Hello from Rochester, NY: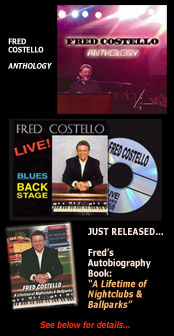 Musical Notes & Sports Items
▲ We're getting into the Holiday season with Thanksgiving this month and Christmas next. October really flew by as we were extremely busy at Costello Music with the band instrument rentals and lesson sign-ups. For those of you who don't know, our business is located at the world famous House Of Guitars, one of the largest music stores in the country. Famous rock groups and performers from all over the world, come and shop there with seven levels of guitars, amps, sound equipment, keyboards, drums and thousands of new and vintage CDs and albums. The House of Guitars has become a regular tourist stop over the years for those visiting our area. They are celebrating their 52nd anniversary this year and if you haven't already, you should check out this popular attraction.
▲ Where Are Former Rochesterians?....David Marinelli and his vocalist wife Patty Powers, after a brief return to Rochester, are back in Las Vegas playing the lounges... Jazz guitarists Mike Kelly and Dave Frackenpohl, who played on my "Blues Backstage" CD, are keeping very busy playing in the Atlanta area…. Bassist/vocalist Joel Dane is living and playing clubs in Florida…John Valle, former Red Wing all-star, is living in town and running the Valle Baseball Academy… Popular vocalist Kimberly Westcott, is living and singing in St. Louis...Drummer Charles Ruggiero, is playing & teaching drums in Los Angeles... Drummer Val Columbo is living & playing in the south Florida area… Debbie Chamberlain, who sang in this area during the 1970's and '80's, is performing in the Palm Springs area...Saxophonist Scott Mayo is musical director for Dancing With The Stars.
▲ The fall concert season is heating up and some of the artists appearing in the upstate area this month include; Mariah Carey, John McLaughlin, Huey Lewis, Bill Maher, Sarah McLachlan, Chicago, Neil Sedaka, Beach Boys & Louis Black.
Quote of the Month: "When did Thanksgiving become Christmas #1?" Louis Black
Bye for now…
Fred
CALENDAR
Fred Costello & Roger Eckers Jazz Duo
Charley Brown's Restaurant – 1675 Penfield Rd.
Every Friday & Saturday 7:30-10pm
This page was last updated on 11/4/17.

NOW AVAILABLE
"Fred Costello - Anthology" CD $15.00 (includes shipping)
"Blues Backstage" CD $15.00 (includes shipping)

"A Lifetime Of Nightclubs & Ballparks" Book $ 20.00 (includes shipping)



TO ORDER FRED'S CD or BOOK BY MAIL:


Mail to:
Music Associates
P.O. Box 25176
Rochester, NY 14625



"Anthology" CD:
$15.00 (includes shipping)

"Blues Backstage" CD:
$15.00 (includes shipping)



"A Lifetime Of Nightclubs & Ballparks" Book:
$ 20.00 (includes shipping)

FOR BOOKING & INFORMATION CONTACT:
Contact: 585-381-2144 or fredcostello@rochester.rr.com