Hello from Rochester, NY: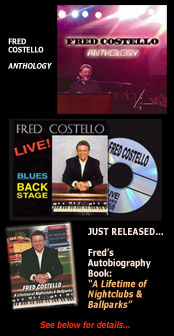 Musical Notes & Sports Items…
▲ The month of August will be a busy one for me, starting with my playing 17 home dates for the Red Wings, hopefully heading to the playoffs, plus a few night club engagements. This, along with gearing up our music studios and band instrument rental business for the fall is going to keep us busy.
▲ The month of July was very notable for me with my 3,000th game as organist for the Red Wings and my band's fifth appearance at the Rochester International Jazz Festival. Much thanks to Danny Labbate, Roger Eckers, Dan Schmitt, Val Columbo and vocalist Daisy for their great performances.
▲ Last month, Topps Baseball Cards put out a minor league set of cards featuring people who have an affiliation with a minor league team. These are General Managers, front office, mascots, etc. I represented the International League and got my own Topps baseball card. How cool is that!
▲ This month is our fifth annual "Costello Music Day" at Frontier Field. My teachers at the studio, band members and their spouses all congregate at one of the Frontier Field's luxury suites to enjoy a Red Wing's ballgame and socialize for a few hours.
Quote of the Month: "Being with a woman all night never hurt no professional baseball player. It's staying up all night looking for a woman that does him in." ~Casey Stengel
Bye for now…
Fred
CALENDAR
(Listen to Fred at all the Rochester Red Wing home games)


The Fred Costello & Roger Eckers Jazz Duo will return to
Charley Brown's in September.
This page was last updated on 8/1/17.

NOW AVAILABLE
"Fred Costello - Anthology" CD $15.00 (includes shipping)
"Blues Backstage" CD $15.00 (includes shipping)

"A Lifetime Of Nightclubs & Ballparks" Book $ 20.00 (includes shipping)



TO ORDER FRED'S CD or BOOK BY MAIL:


Mail to:
Music Associates
P.O. Box 25176
Rochester, NY 14625



"Anthology" CD:
$15.00 (includes shipping)

"Blues Backstage" CD:
$15.00 (includes shipping)



"A Lifetime Of Nightclubs & Ballparks" Book:
$ 20.00 (includes shipping)

FOR BOOKING & INFORMATION CONTACT:
Contact: 585-381-2144 or fredcostello@rochester.rr.com