Hello from Rochester, NY: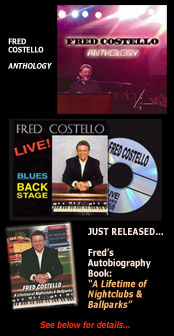 Musical Notes & Sports Items…
▲ July will be a busy month for the Red Wing fans with 13 home dates and appearances by Mike Timlin, Don Beebe, Rodney Atkins, Thurman Thomas, Ron Shelton and the Hanson Brothers. Add in fireworks and nightly promotions and it looks like another fun-filled month at Frontier Field.
▲ July 4th will mark my 3,000th game as organist for the Rochester Red Wings. These 41 years have flown by and it seems like my first game on April 22, 1977 was yesterday. It will also be my wife Cathie's 39th year as game night secretary. With my two sons, Chris & Terry, having run the clubhouses in past years, it's become the "Costello Red Wings." I can honestly say that I still look forward to going to the ballpark each night as much as I did when I started in 1977. This is a tribute to the great Red Wing's organization which has always treated me as family and not an employee.
▲ Bob DeRosa, a local jazz bassist, will again be presenting his annual Tritone Jazz At Naz, located on the campus of.Nazareth College here in Rochester July 23-28. This is a great opportunity for aspiring jazz musicians to attend workshops, play or sing in combo or big band settings and learn from top jazz musicians in the country. Contact is www.tritonejazz.com.
▲ The summer concert season is in full force and among the performers appearing in the upstate area this month include: The Who, Rod Stewart, O'Jays, Ed Sheeran, Foreigner, Tom Petty, Pitbull, Chicago, John Mellencamp and Bret Michaels.
Quote of the Month: "Congress is the only whorehouse in America that loses money." George Carlin
Bye for now…
Fred
CALENDAR
(Listen to Fred at all the Rochester Red Wing home games)


The Fred Costello & Roger Eckers Jazz Duo will return to
Charley Brown's in September.
This page was last updated on 7/1/17.

NOW AVAILABLE
"Fred Costello - Anthology" CD $15.00 (includes shipping)
"Blues Backstage" CD $15.00 (includes shipping)

"A Lifetime Of Nightclubs & Ballparks" Book $ 20.00 (includes shipping)



TO ORDER FRED'S CD or BOOK BY MAIL:


Mail to:
Music Associates
P.O. Box 25176
Rochester, NY 14625



"Anthology" CD:
$15.00 (includes shipping)

"Blues Backstage" CD:
$15.00 (includes shipping)



"A Lifetime Of Nightclubs & Ballparks" Book:
$ 20.00 (includes shipping)

FOR BOOKING & INFORMATION CONTACT:
Contact: 585-381-2144 or fredcostello@rochester.rr.com