Hello from Rochester, NY: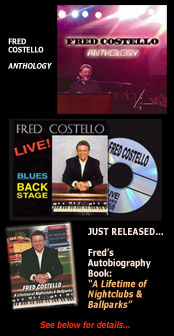 Musical Notes & Sports Items…
▲ Starting this month, we'll be concentrating on our Costello Music operation, located in the world famous House Of Guitars. Besides our music studios we have a school band instrument rental business there. For those of you who have not been to this famous store, it's home to an estimated 30,000 to 40,000 guitars and 4 million albums, CDs and tapes. It could be successfully argued that the House of Guitars is the best-known independent record store in the country, after being the subject of admiring profiles by both People magazine and The Wall Street Journal. Among the rock stars who have shopped there include Aerosmith, Peter Gabriel, Brian Setzer, REO Speedwagon, Foreigner, Red Hot Chili Peppers, Guns & Roses, Sheryl Crow, Ozzy Osbourne and the list goes on and on.

▲ The Red Wings again did a great job this past season entertaining their fans. Besides an exciting, winning team, every night featured a different promotion or event to keep even the casual baseball fan entertained. Between appearances by the Hanson Brothers, Ron Shelton, Steve Garvey, Mike Timlin, Rodney Atkins, ethnic nights, fireworks, music groups, etc., over 440,000 fans again had a great time at Frontier Field this past summer.
▲ This month, multi-reed artist Roger Eckers & I return to Charley Brown's for our 7th year. We'll be playing there every Friday & Saturday along with some occasional guest artists. This will continue until next spring when then I return to my Red Wings gig.
▲ Artists appearing in our area this month include: Diana Ross, Katy Perry, Wynton Marsalis, Bob Segar, Lady Gaga, KD Lang and two of my favorites, Lewis Black and Bruno Mars.
Quote of the Month: "He played like he was in jail - behind a few bars and couldn't find the key" – Victor Borge
Bye for now…
Fred
CALENDAR
Fred Costello & Roger Eckers Jazz Duo
Charley Brown's Restaurant – 1675 Penfield Rd.
Every Friday & Saturday 7:30-10pm
This page was last updated on 9/1/17.

NOW AVAILABLE
"Fred Costello - Anthology" CD $15.00 (includes shipping)
"Blues Backstage" CD $15.00 (includes shipping)

"A Lifetime Of Nightclubs & Ballparks" Book $ 20.00 (includes shipping)



TO ORDER FRED'S CD or BOOK BY MAIL:


Mail to:
Music Associates
P.O. Box 25176
Rochester, NY 14625



"Anthology" CD:
$15.00 (includes shipping)

"Blues Backstage" CD:
$15.00 (includes shipping)



"A Lifetime Of Nightclubs & Ballparks" Book:
$ 20.00 (includes shipping)

FOR BOOKING & INFORMATION CONTACT:
Contact: 585-381-2144 or fredcostello@rochester.rr.com